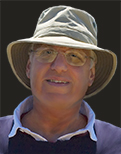 I had the good fortune to grow up in a home with a darkroom. My father was orthopaedic surgeon whose first office was in our home. He developed x-ray films in the basement, with deep vertical tanks that contain a developer solution, a stop bath, and a fixer solution, always at the ready. This meant that whenever I had a roll of film to the process, I can simply go downstairs, remove the film from its spool, dip the film in successive solutions, and hang it up to dry. We also had a 4 x 5 Omega enlarger and trays for print processing. As a result, when my first grade class visited the Statue of Liberty, I was able to take a group photograph with my Kodak Brownie Hawkeye and have prints for everyone the next day.
Needless to say, I was my high school's photographer and photo editor for both the newspaper and yearbook.
After I became an orthopedic surgeon specializing in correcting limb deformities, I realized that professional-looking before-and-after photographs would dramatize the improvement during my lectures.  I therefore decided to create professional-looking patient photographs. I bolted a neutral gray background roll to the clinic's wall and put out a Novotron studio lighting set-up with multiple flash heads and silver umbrellas. The portrait-like images made me a popular speaker on the lecture circuit, which also led to more referrals from my colleagues.
I built a large photographic darkroom in my home suitable for color processing and color printing. I obtained graphic arts (pin registration) equipment and produced high quality lecture slides that were far more appealing than the typical white-text-on-blue-background Diazo material available for lecture slides at the time.
As a result, I could produce title slides that appeared embossed or had a drop shadow or outside glow long before computer-generated slides were available. To make such lecture slides, I became familiar with ultra-high contrast Kodalith film and processing. This allowed me to create tone and line separations, posterization, and numerous other techniques of darkroom magic that were so appealing to judges in photography contests.
In 1979, a colorblind colleague asked me to read aloud the words on lecture slides because he could not see the red text against the green background. This uncomfortable moment led me to an investigation of color theory and human vision that has persisted for the last 32 years.
I started reading the photography books of Life magazine photographer Andreas Feininger. He often mentioned his father, the artist Lyonel Feininger, a cubist who was the longest-serving faculty member at the famous Bauhaus School of Design in Germany, 1919–1933. [When the Nazis came to power, they shut down the Bauhaus school because it taught what Hitler referred to as "degenerate art" (i.e., abstract art).]
The simplicity, harmonious color relations, and aesthetic principles developed at the Bauhaus school appealed to me; I decided to incorporate them in my work.
Starting with the textbook "The Art of Color" by Johannes Ittens, I began a self-study program of color theory focusing on the principles of complementary and contrasting colors, chromas, and hues, which influenced my photography.
Soon thereafter, I obtained a computer-based program called "The Interaction of Color" created by former Bauhaus teacher and later Yale University art professor, Josef Albers.
Beginning in 1981, I began photographing subjects that display the same intrinsic color relations and proportions that Albers created in his "Homage to the Square" series.
The majority of myy photography during the 1980s and 1990s centered on my clinical work. I created fifteen 10-foot long medical displays conveying new information and techniques for our national orthopedics meetings. At these gatherings, more than 17,000 registrants (surgeons, sales personnel, and technical support people) would walk past my exhibits, giving me a sense of accomplishment similar to that of artists who displays their work in galleries. I also competed in national and international photo salons, winning many prizes.
More recently, I've used techniques that I modified in various ways using Photoshop filters and aftermarket plug-ins and Corel Painter with its numerous brushes.
My life as a photographer took a turn for the better when I met Cliff and Nancy Hollenbach, professional travel photographers.  They gave my name to the publisher of PhotoMedia Magazine for an article featuring photographers who had another primary career.
That article, in turn, led to an invitation to speak at The Sierra Club's Photography Section in Los Angeles. I put together a talk about how the Bauhaus group influenced my color photography. It was a big hit.
I next assembled some of my Bauhaus-related images into high-quality wedding-style albums. One such album ended up in the hands of Marisa Caicholo, director of the ADC Gallery in the Bergamot Station Art Center Complex. Her enthusiasm for my work has resulted in a gallery show commencing August 11, 2012 and running until September 18, 2013.
I also have an interest in the history of science and medicine, and particularly the extraordinary life of Benjamin Franklin as a scientist. In 2008, I wrote a book about Franklin and his interests in science,medicine and technology, which can be purchased  from Amazon or directly from The Friends of Franklin, Inc.
I continue to function as an orthopedic surgeon in the medical school faculty of the University of California, Irvine, in Southern California. Here's a link to my UCI webpage describing my professional activities.